About Us
Marilyn Oxley has been with the business for over 15 years. She has a wonderful eye for decorating, and is an expert in pool and spa maintenance. Marilyn is native to the Atchison area, embracing the culture and friendly warmth Atchison has to offer. With her easy-going nature, knowledge of the area and its resources, and superb decorating sense, Marilyn makes the decorating process enjoyable and fun.
Ronda Crossland has a BFA in Interior Design. She has over 14 years experience in the field, and has been with Main Street Decorating for over four years. She has a strong knowledge of historic preservation, and can advise you in preserving your older home to bring out its charm.
Main Street Decorating offers you over 29 years of professional knowledge and experience in the decorating field. With the Michael S. Hundley Construction Company as the parent company of Main Street Decorating, Main Street Decorating's resource base extends far beyond that of most decorating centers, ensuring that your design concept can become a lasting reality.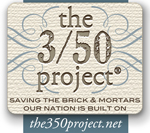 Copyright 2008-2009 Main Street Decorating
Michael S. Hundley Construction, Inc. - Parent Company
Designed by JB Stylized